Bioware recently announced the "Bioware Signature Edition" of their upcoming game Dragon Age II.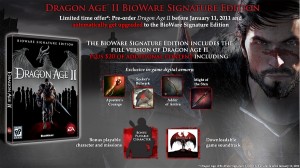 They're boasting $20 worth of additional content including:
A Secret bonus playable character with missions
downloadable soundtrack
exclusive in-game digital armory with 4 weapons

Apostates' courage
Seeker's Bulwark
Adder of Antiva
Might of the Sten
This will be a "First Edition" release meaning anyone who pre-orders before the January 11th release date will automatically get this CE at the cost of the regular edition game. No word on whether Europe will be getting this.
Games Discussed in this Article