Imagine my surprise when my Gamestop pre-order of Alone in the Dark didn't just arrive with a sountrack disc but instead was a unique "Soundtrack Edition" of the game with alternative cover art and the disc contained within the case.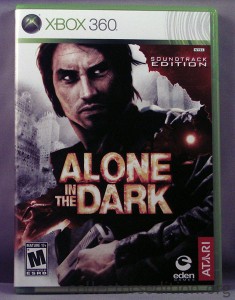 I'm sure this will be a rare item since not even Gamestop/EB themselves recognized that the pre-order bonus would be a unique edition and not just a separate item. There is additional Pre-order content that is still coming but apparently there was a delay in production so it wasn't ready to ship with the game.
Also I would be remis if I didn't mention the fact that Europe got two different editions of this game. A really nice big box package exclusive to GAME in the UK (pictures are availble thanks to grim_d) the rest of Europe didn't get any bonus content but they were treated to a SteelBook version of the game… the lucky bastards.