Mass Effect 2 Collector's Edition
Platform:

Xbox 360
Edition:

Collector's Edition
Format:

NTSC
---
Released in
United States
on
Jan 26, 2010
at a price of
$69.99
The Collector's Edition of Mass Effect 2 come in a cardboard sleeve containing a 3-disc SteelBook game case and a cardboard fold out book sleeve.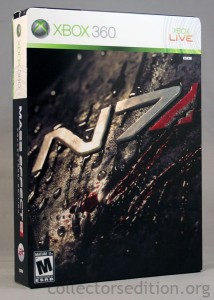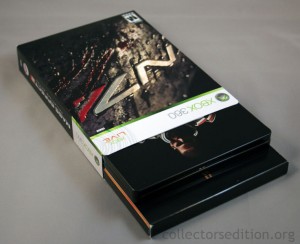 The SteelBook case contains 2 game discs as well as an additional Collector's Edition bonus disc with a behind the scene's "making-of" documentary. Also contained within the case is the Collector's Edition instruction manual a code card for the Collector's Edition Armor and Assault Rifle as well as a flier advertising Army of Two 40th Day and Battlefield Bad Company 2.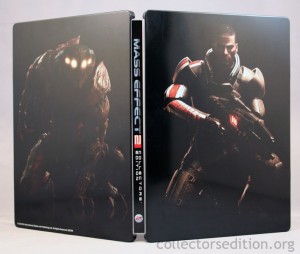 The fold out book sleeve displays the Cerberus Network Code card (also available in the regular edition but grants access to additional bonus content, similar to the Forza 3 VIP club) predominantly on the front. Inside the sleeve is a 48-Page hardcover art-book and the Mass Effect Redemption #1 comic book.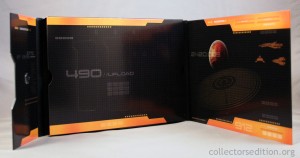 Pre-Order Bonus:
Those who pre-order though GameStop locations in the US will receive a Marketplace code to download the Terminus Assault Armor and the M-490 Blackstorm gun.
Other games with Collector's Edition releases from the
Mass Effect franchise.