Well it's only been a very short while since the Sukiyaki Western Django SteelBook Give-Away started and we're already well underway. If you don't know what I'm talking about, click tha link to learn more. Today I received the prize package that I'll be giving away and like always I took some pictures for everyone to ogle over.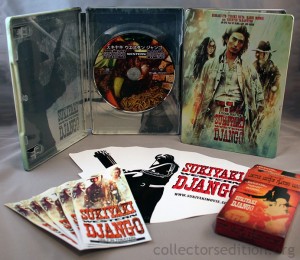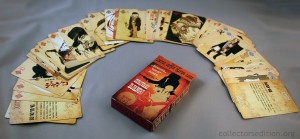 Prize Details:
The winner will receive a SteelBook with a DVD of the movie, five Sukiyaki Western Django stickers, and a deck of Limited Edition Sukiyaki Western Django playing cards featuring some beautiful drawings of the various characters from the movie.
More Ways To Win:
As an added twist, if more than 500 participants sign up for the site and post a comment to enter the drawing I will give away a 2nd copy of the DVD, essentially doubling everyones chances. Only the first place winner will receive stickers and playing cards but the runner up will receive their very own SteelBook edition of Sukiyaki Western Django… but only if there are more than 500 entrants. So spread the word and tell your friends, it could improve your chances. There is a Digg Link going if you want to help out that way.
For the SteelBook Fans:
I'm sure the SteelBook fans out there are just as interested in seeing some good pictures of this case as they are about winning one. You haven't been forgotten, here are some photos of the Sukiyaki Western Django SteelBook, inside and out.
I personally really like this case. The front, while simple has a dull raw finish to it that you just can't get with a plastic case, and the back makes some good use of the natural properties of the metal by adding a sheen the metal buckle in the girl's dress as well as accents in her clothing and the pillar she is leaning against.
Inside we're treaded to a black and white still from the movie, definitly reminscent of the old tv western and kung-fu films. The DVD seems out of place at first but then it all makes sense when you realize it's a life size photo of a bowl of sukiyaki and the inside of the case becomes a litteral representation of the film's title.
Good Luck to everyone who's entering to win but this DVD is one you'll probably want to pick up even if you don't.