As many of you let us know, two CEs have been announced for the upcoming release of Activision's Call of Duty Black Ops II. slated for release on PS3 and Xbox 360 on November 13th, its very likely that both of these editions will be available in large quantities world wide.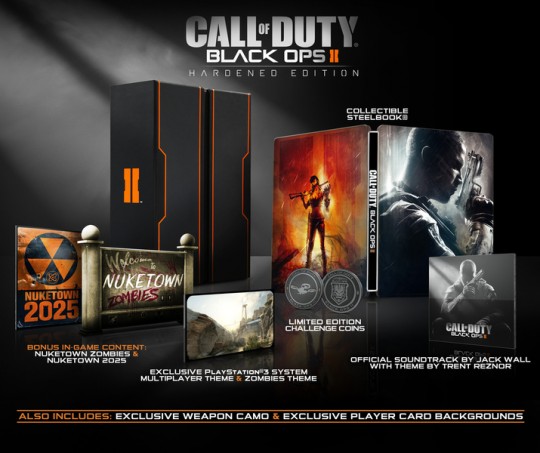 The Hardened Edition will retail for about $80 (USD) and feature a fancy box along with a SteelBook (G1 for 360 and G2 for PS3), a Soundtrack, some "Challenge Coins" and some bonus content: "Nuketown Zomebies" and "Nuketown 2025" among some additional in-game weapons and other bonuses.
The PS3 release will also include some dashboard themes, while the 360 release will include some Avatar items.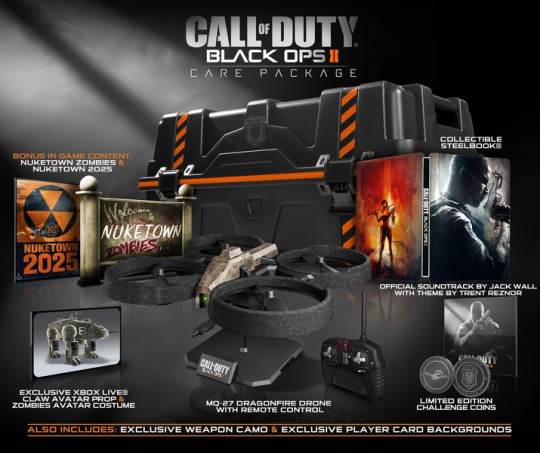 The Care Package edition will retail for about $180 (USD) and includes everything from the Hardened Edition except it looks to come in a massive crate to house all the content along with a remote controlled quad-copter based on the  "MD-27 Dragonfire Drone". Pushing the gadget envelope even further than past releases.