StageSelect has revealed the final North American Box Art details for Street Fighter IV Collector's Edition.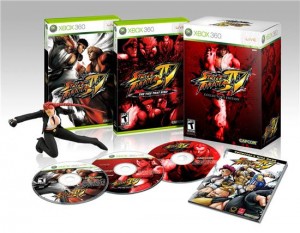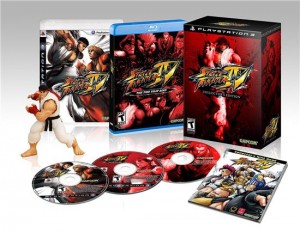 Detail on what it includes:
North American deets for the long-awaited Collector's Edition! We're not just throwing a craptacular "behind-the-scenes" video and "art book" with less images than you can find on any website into a cheesey tin box. Instead, we're bringing you a gorgeous package that includes:

The game (duh)
A limited-edition (ie., not sold anywhere else) figurine – Ryu in the PS3 box, C. Viper hotness in the 360 flavor. Decisions, decisions…
Street Fighter IV: The Ties That Bind: a 65 minute anime movie — created by Studio 4C — that sets up the story of SFIV by explaining events post-SFII. BluRay disc in the PS3 box! The Xbox version is a 360 game disc that outputs the movie at 720P, not a DVD.
A mini-strategy guide from Prima, written by the same people doing the full-on guide and illustrated by Udon Comics
CD soundtrack. Rock SFIV stage chunez in your car!
…Plus some secret additional downloadable content that we're not quite ready to reveal at this point. Look for more announcements soon!

All this wrapped up nicely in a box that features Ikeno-san's instant classic illustration of Ryu, with images of the other characters on the sides.
Games Discussed in this Article