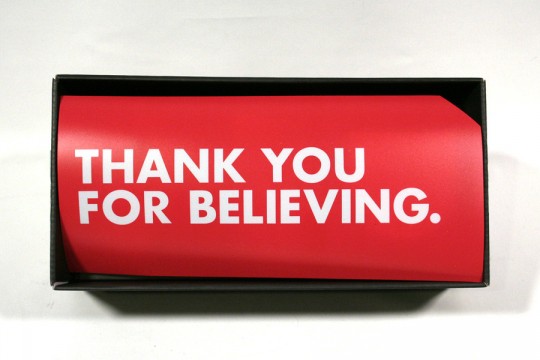 After all of the opinions, the delays and the drama surrounding the Ouya I finally received mine, rather than just do an unboxing or a review I thought I would keep a Journal of my experiences with this little console. So consider this an extended, multi-part review where I'll dig into everything about the Ouya "experience" starting with the kickstarter and today, continuing with the unboxing. This is "Day 1″
They say that it's important to make a good first impression. The whole shipping debacle with Ouya backers soured a lot of their supporters before they even had a chance to make their first impression, myself included. The shipping delays weren't the only problems surrounding the launch, many backers who had supported at levels for custom engraved consoles or controllers didn't receive their custom engravings, many others were missing their extra controllers. There have also been reports that many (if not all) of the backer console units are alpha builds and contain bugs that don't exist in the retail release (though I honestly don't know how much truth there is to this). My first impression was receiving my console a month and a half later than I should have only to find the box sopping wet on my doorstep. Strike 1 against Ouya, this is something no collector, or even gamer ever wants to deal with.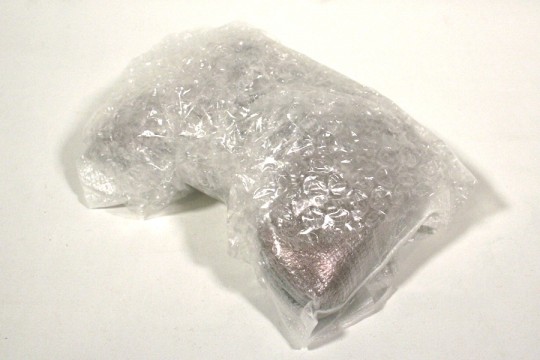 Opening the rain soaked box I was greeted to several bubble and foam wrapped Limited Edition controllers, below witch was a plain back box Labeled "OUYA". I checked everything over carefully looking for water damage, thankfully there wasn't any. The outer box was thick enough that the rain hadn't soaked through and at most only a few small drops made it through the cracks. I was able to wipe these away without incident. Sadly though, the Box did have one of the corners crushed.
My initial impression to the packaging left me unexcited. No real packaging for the extra controllers and the console packaging was made of rather cheap corrugated cardboard. The black on black print was difficult to read; unless the light hit it just right you might not know there were any labels on it at all. It might have been a cool effect if the waviness of the cardboard didn't show through the package coloring ruining the look.
Thinks got a little better once the outer cover was slid off of the box. You're greeted with a message reading "THANK YOU FOR BELIEVING", a message that might have been more inspiring had it been delivered prior to the console's retail release. I was actually impressed that it's printed on a thick piece of plastic, up to this point every image I'd seen of this led me to believe it was some kind of card stalk or poster-board. Under the message the console and controller are smartly displayed, mounted snugly in a debossed  piece of plastic. This is easily the highlight of the unboxing experience, it's pretty rare that you're presented with a product like this, unabashed by all kinds of packing material. All of the other included items are hidden under this piece of plastic, this includes batteries for the controller, a power supply, HDMI cable and setup instructions. The only other hardware necessary to use the device is an HDTV.
The build quality of the console itself is actually surprisingly high. For such a low cost device you might expect really low built quality but the fit and finish is on par if not better than consoles for the big three. Most notably is the bronze colored portion of the case is made out of actual metal (at least on the Limited Edition). I also really liked the use of Allen bolts for securing the console together, making it's method of disassembly clear and easy but also dressing the console up in the process. The Ouya also has some really good weight to it. This is important for such a small device as more often than not small devices end up getting dragged around by heavy cables. The only two moving parts on the entire unit are the cooling fan and the power button which typically makes for a good product lifespan, especially with such a rugged outer case. The back of the console includes the ports you'd expect, there's a DC power input, an HDMI output, an Ethernet port as well as a USB-A port for plugging in storage and interface devices. Another interesting inclusion is a Micro-USB port, presumably this allows the Ouya to be used as a child device when connected to a PC. Something that generally doesn't exist in the console world but comes naturally on a device like the Ouya since it's based on hardware designed for Android. Of course the Ouya also has wireless connectivity by way of Wi-Fi for networking and BlueTooth for wireless controllers.
There are a few things that I don't like about the console design. As someone who has a lot devices connected to their TV I rely heavily on a Harmony remote to help simplify everything. Unfortunately the Ouya is missing one wireless protocol that most other media devices rely on… IR. Without an IR receiver you wont be using any IR remote to turn it on and off or navigate menus.  The PS3 suffers from this same problem, though there exists a $60 adapter to use IR remotes with the PS3, I haven't been able to find such a device for the Ouya. Even if such an adapter existed it would likely be too expensive to be worth using. Another thing I don't like about the Ouya console design is the power light is integrated with the power button, which is located on the top of the console. This means it's not visible from your couch so there's no clear indication whether your Ouya is on or off until you're standing above it. Where it's sitting on a shelf in my living room I can't even see the power button when standing above it, so for all intents and purposes it might as well not even have a light. My last major gripe is how crowded all of the ports are on the back of the console. It's not nearly as bad as some devices I've used, I was able to fill in every port with fairly oversized cables without trouble, however I suspect that some larger thumb-drives may have difficulty plugging in directly.
I was fairly impressed with the controller design as well. I was concerned with the faceplate design, worried they might shift around or easily fall off, neither of which is the case. The controller is actually exceptionally comfortable and in that regard I actually find it on par if not better than the controllers made by the big three. I personally think it's a pretty nice looking controller too, although the placement and design of the "Ouya" button in the center is equal parts awkward (difficult to reach) and ugly (difficult to see). The analog sticks and shoulder buttons are on-par with other 1st party controllers, the d-pad in and of itself is substantially superior to what's currently offered on the Xbox 360. I do feel that the face buttons and especially the analog triggers leave some to be desired. The face buttons have a nice clicky action to them, but the plastic used and the very audible "click" ultimately makes them feel like they'd be more at home on a cheap 3rd party controller. I was happy to see that there were no issues with the face buttons binding against the faceplate (something that was reported to be problematic on early units). The triggers unfortunately do feel fairly cheap, they have the same cheap plastic feel as the face buttons, the action isn't very smooth and they bind slightly at the very bottom. It's not bad enough to affect gameplay but it is noticeable while playing; the feel in your hands just isn't as on point as it could be. Finally the center section of the controller features four really soft LEDs for player indication as well as a small touch pad area. It seems that Ouya has beat Sony's PS4 to market on that idea. I'm still not sold on the use of such a controller feature but it's nice to see that even a $100 console is including at least some "next gen" controller features.
While the Ouya controllers don't feature rumble they do have a good weight to them. Early "rumbleless" PS3 controllers had a problem with feeling cheap due to lack of weight. This doesn't seem to be a problem with the Ouya controllers likely do to two layers of the extra thick plastic that make up the controller body; a direct result of the faceplate design. The faceplates are held on with six magnets a piece and are designed in such as way that the faceplate fits very snug in place. It works so well that they don't shift around at all. Impressively, they actually require the perfect amount of force to remove, easy enough that you can remove them without trouble, but strong enough that you'd never know they were removable while using the controller. The faceplates exist so that you can remove the batteries (two AA batteries per controller, which are included with each controller). However I also noticed that there is an accessible spot for a pinheader under the right faceplate. It's possible that this simply exists for manufacturing purposes but I would love if this somehow allowed hardware hackers the ability to interface with these controllers down the road. One of the promises made during the kickstarter was that they would eventually publish hardware information like this, I haven't seen any yet and I really hope they make good on that promise.
Looking over the console and controller is well and good but I wanted to see how it actually played. Hooking it up seemed simple enough. I had a free HDMI cable on my TV already so all I needed was the power cord and the console.  The console fired up about as fast as any other modern console, this is actually surprising since my Android cell phone and tablet both take what feels like MINUTES to boot up. After the Ouya logo I was instructed to sync a controller. Holding down the "Ouya" button it took about 20-30 seconds to sync up, a little long but otherwise painless process. I was then instructed to wait while it searched for a wireless network… and searched… and searched. After a few minutes of waiting I started looking around for something to help it along. I had an option to "skip" and an option for "settings". Opting to skip simply informed me that I NEEDED to connect to a network. The settings menu took me to a pretty standard Android Wi-Fi settings screen. Interestingly enough the settings screen had my network displayed, so I selected it, laboriously entered my password with the controller and then saved before exiting. This dumped me back to Ouya screen still searching for a network, a few second later it found it ("finally") but then asked me to enter my password again ("ugh"). After entering my password it started to connect and then told me it couldn't connect and went back to searching. After a few more seconds it found the network again, and then asked for my password, AGAIN, and then disconnected, AGAIN … and this infuriating loop repeated 3 more times. It's important to note that I have a DVR and a PS3 sitting right next to this device, both of which up until recently had been running on Wi-Fi just fine. Maybe the Ouya having a smaller antenna and a metal chassis has smaller Wi-Fi range than other devices, but this was not a good first impression. I consider this strike 2 against the Ouya; suddenly this GIF makes total sense:
At this point I begrudgingly searched for an Ethernet cable so that I might actually use my Ouya. I almost always use a physical network connection where I can so this wasn't a huge deal for me but I had skipped that hoping I could get up and running quickly; that backfired. Plugging it in I was able to connect just fine and the console started downloading a system update. I will say I was impressed with the speed at which the update downloaded. It was on-par with my experience with the Xbox 360. The Wii and PS3 seem to take literally hours to update and I was happy to see that the Ouya was fairly quick about it. After the update I was prompted to sign in or create an account. One of the "benefits" of being a Kickstarter backer is I was able to register my Ouya screen-name in advance, so after scratching my head for a while trying to remember my password I finally signed in.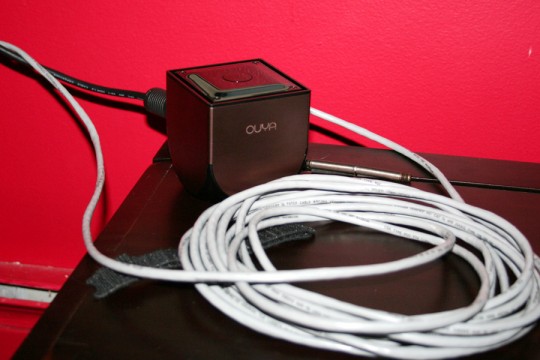 Once signed in I was immediately prompted to enter a credit card before I could continue. This struck me as odd, I suppose a console that can only obtain games via download would likely use a credit card as it's primary method of payments but I was essentially being paywalled to a device I already purchased. Part of me doesn't want a credit card associated with my account. I had my card number stolen during the PS3 security breach and had to deal with the headache of disputing fraudulent charges. Since then I've removed cards from most online accounts and simply buy pre-paid cards to pay for downloads. Once again the Ouya gave me an option to skip but then didn't actually let me skip saying that they required my payment information up front. The only other option was to use a pre-paid card. At this point my wife was asleep in the bedroom where my wallet was and I wasn't interested in waking her up to appease the Ouya. Obviously I was in no position to obtain a pre-paid card either; it would have been nice if I knew about this while waiting for the console to arrive, I might have picked one up to avoid this situation.
Earlier versions of the Ouya software had credit cards as the only payment option, leaving people like me who didn't wish to use one completely unable to use the device. That would be a complete Strike 3 if they hadn't added the pre-paid option, but it's infuriating that they require some payment mechanism be in place before you can use the console, a console who's major selling point is the availability of free demos for every piece of software in the marketplace. Steam doesn't require me to add payment until I'm ready to buy, Google Play doesn't require payment until I'm ready to buy either, neither does the Xbox Live Marketplace or the Playstation Network Store, why does the Ouya need it up front? … And so ended my day 1 of Ouya ownership. The console left me with a first impression that had some to be desired. The unboxing experience was so-so, the hardware itself was above my expectations for such a budget device but the actual first boot software experience just left me frustrated; as if I hadn't been waiting long enough to use my Ouya it made me wait at least one more day.