I got an email recently with the following:
I work on Modern Warfare 2, and am also a personal fan of the site (as I'm a CE heavy user).  Not sure if you saw but we added a 4TH flavor of Modern Warfare 2…the Veteran statue.  Tons of work went into this bad boy and we worked with the top collectible manufacturer in the industry, Kotobukiya,
to make it.  Sold as a bundle in the UK, or standlone statue here:
http://www.mcvuk.com/news/35821/Modern-Warfare-2-Veteran-Edition-announced
http://www.amazon.com/Call-Duty-Warfare-Not-Machine-Specific/dp/B002NWK71U

Extremely limited quantities so even I'll be lucky to get one.
Exclusive to GAME store in the UK the Veteran edition includes the SteelBook Hardened Edtion as well as the following
Unique Gift Box Packaging
"Captain Soap MacTavish" ultra-premium ARTFX Statue sculpted by Kotobukiya

1/6-scale, 12″ tall if standing upright
Depicts Modern Warfare veteran Cpt. "Soap" MacTavish of Task Force 141, equipped with custom snow camouflage and weaponry as seen in "Cliffhanger" mission from Modern Warfare 2

3 sets of interchangeable weapons and arms, including: Dual ice-climbing pickaxes (pictured) Dual .45 caliber pistols, M14 Enhanced Battle Rifle (affixes to Soap's back when not in use)
Environmental ice base stores alternate weapons when not in use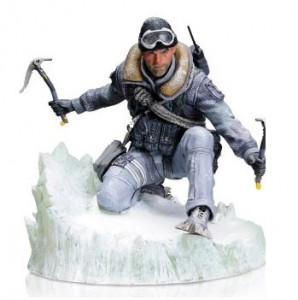 The Veteran Edition will run you £119.99 and be released along the other versions of the game. In the US the closes you will be able to get to this is to buy the Statue alone for $79.99.
Games Discussed in this Article