While North American PS3 collectors will have a shot at the Divine Edition of Dante's Inferno European collectors will get the very similar Death Edition.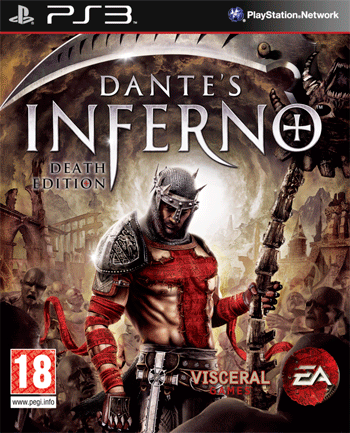 Translated from the report on Coolplanet.it:
Visceral Games, Electronic Arts Inc. studio (NASDAQ: ERTS) announced today Dante's Inferno "Death Edition" for PS3 and Xbox 360, which will be available in Europe on February 5. In addition to the game, the special edition of Dante's Inferno will also include the following bonuses in an exclusive "Death Edition" packaging with lenticular artwork.

Exclusive costume for a playable character in-game:

Isaac Clarke from Dead Space!

Making-of documentary with the game (Italian subtitles)
Documentary "Dante in History" (subtitled in English)
Soundtrack full game
Documentary on the creation of music and audio (Italian subtitles)
Digital Artbook edited by visual designer Wayne Barlowe (in English)
Over 10 minutes of scenes from the soul "Dante's Inferno An Animated Epic" (in English)
digital reprint of the poem Complete (in English)

"We are very excited about the Death Edition, because it gives us the opportunity to create something truly unique and special for Europe," said Jonathan Knight, Executive Producer for Dante's Inferno. "There's really a lot of exclusive material within this Special Edition, and the demo coming December 24th on Xbox Live and PSN, players can finally get a taste of what awaits them in the full game out February 5, 2010. "

The demo 'Gates of Hell' will introduce the players in with a creative reworking of Dante's poem, where Dante's version of a warrior returning from the crusades back in his native Florence to find his love, Beatrice, cruelly killed and dragged to the soul ' Hell by Lucifer. Voted to rescue his beloved, Dante begins the epic journey to the gates of Hell and beyond, along which face monstrous undead, demons, cursed and even death itself. The demo will therefore allow a first glimpse of the vast world of Dante's Inferno and will be the prelude to the trip a nightmare that will take Dante through the nine group.

In Dante's Inferno, gamers play the role of Dante himself, as it passes through the nine circles of the damned – the limbo, lust, gluttony, avarice, wrath, heresy, violence, deceit and betrayal. At a speed of 60 frames per second, each group is characterized by unique environments, new creatures, fearsome demons, the only elements of history that have been created to give the maximum dramatic features of each of retribution.

Players will have the opportunity to go to hell from 5 February 2010 for Xbox360, PS3 and PSP. The demo for The Gates of Hell will be available for PlayStation 3 and Xbox 360 since 24 December.
thanks to Rinsukaze for the tip