Warner Bros. announced at their press conference on July 14 another Collector's Edition for the game The Lord of the Rings: War in the north. The Collector's Edition will be available for PC, PS3 & Xbox 360.
Due out in fall 2011 for a RRP of € 89.99  – the Collector's Edition includes the following:
The game in a Steelbook case
Exclusive snowtroll figure
War in the North art book featuring concept art of key characters in the game, various enemies and beautiful environments in Middle-earth
Inside Look: The Music of War in the North

Interviews and footage of legendary composer Inon Zur at Abbey Road Studios
The E3 2011 Concert event, along with three tracks from the game soundtrack
Digital content:
Lothlórien challenge card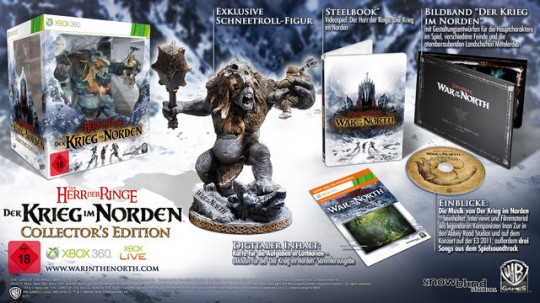 Sorry for the German picture I couldn't find one in English.