Jason G wrote in to inform us of details of three confirmed European CE releases for Assassin's Creed III.
The Freedom Edition, includes Alex Ross' SteelBook (similar in design to the North American pre-order bonus), "George Washington's Notebook", a statue of "Connor" and some DLC content all wrapped up in a good sized decorative box.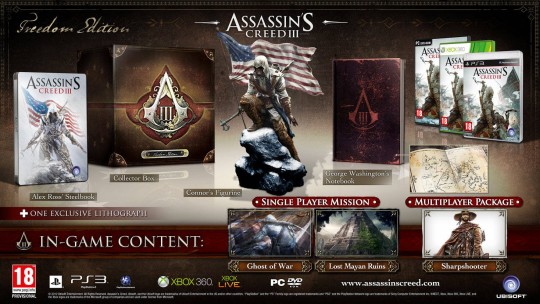 The Join or Die Edition seems to be a slightly smaller package which replace the statue with a "Join or Die" medallion. It also lacks the SteelBook and some of the DLC Content.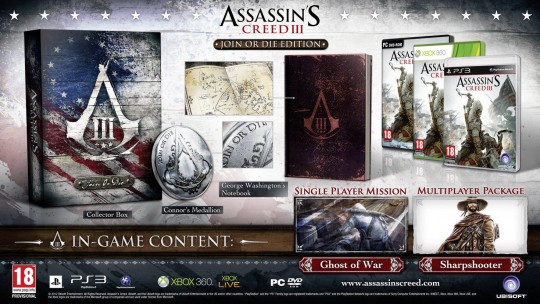 Finally there will be a Special Edition which seems to come in a standard game case with alternative cover art and the inclusion of an "exclusive" piece of single player DLC Content "A Dangerous Secret". Those who complete this DLC will also unlock the "Flintlock Musket" weapon.
The Freedom Edition has an RRP of £80 for PS3 and Xbox 360 and an RRP of £60 for PC, the Join or Die Edition has an RRP of £65 for PS3 and Xbox 360 and an RRP of £50 for PC. All of these will be released on October 31st of this year. No word yet on any CE releases for North America, if past Assassin's Creed games are any indication the North American releases will be completely different than the European releases.