While those in Europe were already granted a CE release for the upcoming Assassin's Creed Brotherhood, those of us in North America were left out in the cold... until now.
A Limited Edition of Assassin's Creed Brotherhood has been announced for North America and is quite different from the CE that Europe is receiving.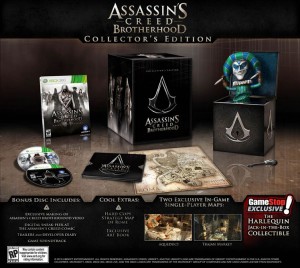 Included is the typical bonus disc with behind the scenes content, an artbook, a fancy case, and the always welcome physical game map, but the real treat is the included jack-in-the-box featuring a character from the game.
The interesting thing here is that there are different jack-in-the-box characters depending on where you buy your LE. GameStop will be selling them with the Harlequin character while all other retailers will have the Doctor.
Assassin's Creed Brotherhood Limited Edition will be released on November 16th for 360, PS3, and PC at a price of about $100....
View this article on the HomePage.