Capcom recently
posted details
(
translated
) on their blog for the upcoming Super Street Fighter IV Collector's Package.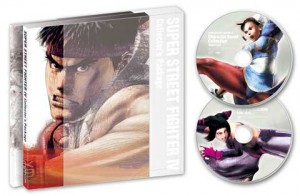 The Collector's Package will be released alongside the regular edition for PS3 and Xbox 360 in Japan on April 28th for a price of 5990 yen (~$66USD) and is slated to include a disc with the various character's background music, all promotional videos and trailers for the game, character art, and a mini story for SSFIV.
Buyers of the Xbox 360 release will also receive an exclusive SSFIV Anime by director Kizaki (of Afro Samurai fame) animated by GONZO.
There is one more bonus "to be announced".
As a thank you to early adopters, a classic costume pack will be made available free for download from the release date until July 1st. After that you will have to pay (price yet to be determined) to download the pack.
...
View this article on the HomePage.