GameStop released detail of the upcoming North American release of Street Fighter IV Collector's Edition for Xbox 360 and PS3 earlier today:
The Collector's Edition for Xbox 360 or PS3 will include a bonus disc with a 65-minute full-length Anime movie and promotional trailers; a CD soundtrack; a collectible Ryu figurine for the PS3 edition; a collectible C. Viper figurine for the Xbox 360 edition; a Udon/Prima Hint book; and 5 downloadable costumes. Ships February 17.
The Pre-Order Bonus through GameStop has been known for a while
Reserve Street Fighter IV and receive an exclusive headband like the one worn by martial arts master Ryu. Channel the power of Ryu with this official Street Fighter headband. Available for online and store in-store customers only while supplies last.
1up is also reporting details of
the European SFIV CE
. Which is slated to include an HD film, Downloadable Content as well as 2 figurines.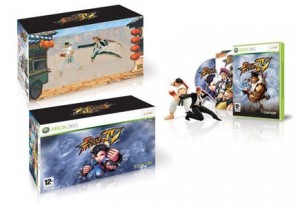 ...
View this article on the News Page.