Batman: Arkham Origins Collectors Edition
Platform:

Xbox 360
Edition:

Collectors Edition
Format:

NTSC
---
Published by
Warner Home Video Games
Released in
United States
on
Oct 25, 2013
at a price of
$119.99
Released in
Canada
on
Oct 25, 2013
at a price of
$119.99
The Collectors Edition of Batman: Arkham Origins comes packaged in a box and contains the following content:
Exclusive Arkham Origins Premium Statue featuring LED effects Produced by TriForce measuring approximately:
– Height "9
– Depth "11.5
– Width "13
80-Page, Full Color Hardcover Artbook
Two Key Pieces of Evidence taken Directly from the Gotham City Police Department Crime Lab
Batman Wanted Poster
Batwing Prototype Schematic
Anarky Logo Stencil
Glow-In-The-Dark Map of Gotham City
Wayne Family Photo
Assassins Intel Dossier, which includes files on the 8 Assassins as well as Black Mask's Contract
1st Appearance Batman Skin: Look just like Batman did during his first appearance in Detective Comics #27, released in 1939.
Deathstroke Challenge Pack – Unlock the ability to play as one of the Worlds deadliest Assassins! Usable throughout all the Arkham Origins Challenge Maps.  Also includes two Bonus Challenge Maps and two Bonus Deathstroke Skins.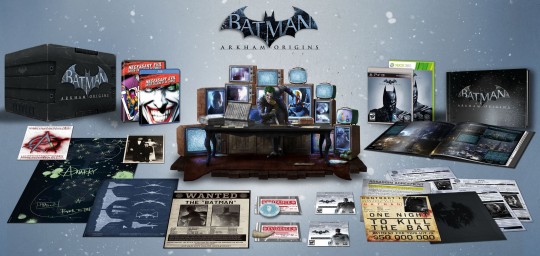 Other games with Collector's Edition releases from the
Batman franchise.