Forza Motorsport 3 Limited Collector's Edition
Platform:

Xbox 360
Edition:

Limited Collector's Edition
Format:

NTSC
---
Published by
Microsoft
Released in
United States
on
Oct 27, 2009
at a price of
$79.99
The Limited Collector's Edition of Forza Motorsport 3 includes the following:
A 2GB USB drive and a keychain, both "specially branded"
"Forza Motorsport VIP Membership", which will "entitle gamers to special treatment at the game's auction house, community storefront, and on the game's official forums."
5 cars, "available only through your VIP membership"
"Exclusive Collector's Edition Car Pack", which is five cars that have been "hand tuned and hand painted by the developers at Turn 10"
A Forza 3 dashboard theme.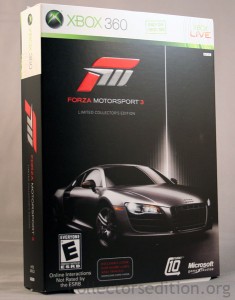 Availability:
This Limited Collector's Edition is only available through GameStop stores in the US.
Pre-Order Bonus:
Those who pre-order Forza Motorsport 3 though Gamestop stores will receive exclusive downloadable access to the community designed and chosen, Audi R8 5.2 FSI quattro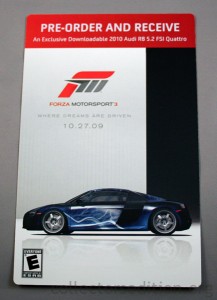 Also those who pre-ordered Foza Motorsport 3 took a picture of their receipt and sent it to Turn 10 recevied a special Downloadable Content code for 3 additional cars .
A Halo ODST themed BMW designed by NeoGaf's Ayo Jube.
A Crackdown 2 themed Camaro designed by community MVP m0dus.
A Forza Motorsport 3 themed Audi R8 designed by Turn 10's Fred Howell
News About this Collector's Edition:
Other games with Collector's Edition releases from the
Forza Motorsport franchise.