Need for Speed: Carbon Collector's Edition
Platform:

PC
Edition:

Collector's Edition
Format:

DVD-ROM
---
Published by
EA
Released in
Europe
on
Nov 01, 2006
The collector's edition of Need for Speed: Carbon comes in a standard keep case with a cardboard slip cover, it contains the following:
Four new cars: 2006 Chevrolet Camaro Concept, 2007 Jaguar XK, 2006 Koenigsegg CCX, 1992 Nissan 240SX
Ten pre-turned versions of existing cars
Extra events: six new races and three challenge series, including drift courses in the city
Ten new vinyl kits
Bonus DVD with a behind-the-scenes feature about the cars, environments, characters and actors, and the Need for Speed AV Wars Remix Project, a collection of six audiovisual remixes based on the game.
Windows version- there is additional content available if you pre-ordered the collector's edition through EA Downloader. It includes:
Two new cars: 1971 Dodge Challenger and the 2006 Pagani Zonda F
Automatically unlock every performance upgrade in the game.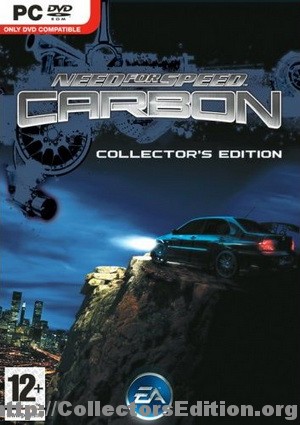 Other games with Collector's Edition releases from the
Need For Speed franchise.