EBGames Australia have just announced that there will be not one, not two but three different Steel Box Editions for the Elder Scrolls Online for PS4 and Xbox One, exclusive to the Aussie retailer.
Not too long ago Bethesda Softworks has revealed that the console versions of The Elder Scrolls Online have been delayed at least six months as they work on the console specific issues that come with porting the game. Well, maybe some shiny new Steel Boxes make the waiting less painful?
The three Editions are named after the three join-able major factions in The Elder Scrolls Online, as follows:

Aldmeri Dominion Edition
Ebonheart Pact Edition
Daggerfall Covenant Edition
Each Steel Box comes with a Bonus Map and shows a representative of the related faction on the front side and signatures by key members of the Zenimax Online Studios development team on the back side.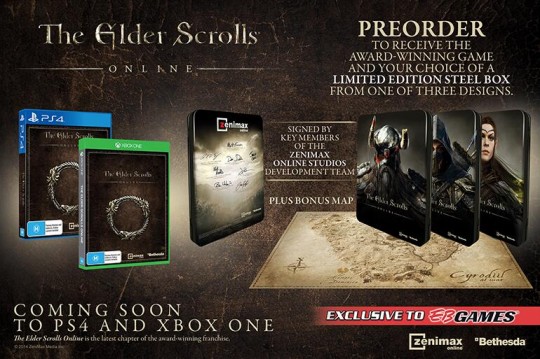 Pre-orders can be placed here