September 1st, 2011 Michael Pica
Many of you wrote it to tell us about a wired article showing off leaked advertisement info for the upcoming Hardened Edition of Modern Warefare 3.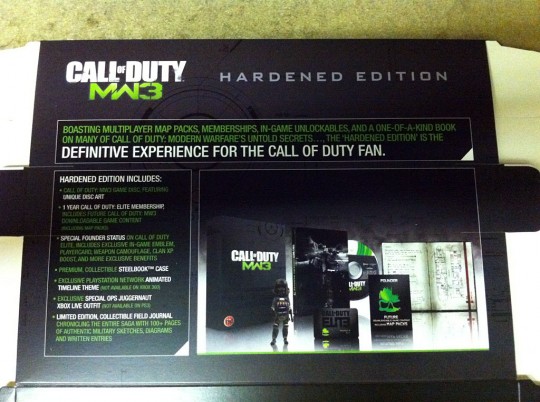 The photo shows the BBFC rating logo meaning this is likely information on the UK release (although if past COD CEs are any indication all versions internationally are the same). While not specifically mentioned it seems that again, like past COD releases, it will include a SteelBook case for the game disc itself.
Explicitly mentioned is the following content:
1 year of Call of Duty: "Elite" Membership
Special "Founder" status, which profiles you with exclusive:

in-game emblem
player card
weapon camouflage
clan xp boost
other benefits

PSN animated timeline theme
Xbox Avatar Special Ops Juggernaut Outfit.
A Field journal with 100+ pages of authentic military sketches, diagrams and written entries chronicling the Modern Warfare saga.
What seems most peculiar to me is that Activision has waited so long to mention details on this release and the inevitable Prestige Edition, even after this leak they refused to comment. Most likely they are simply waiting for the Call of Duty Convention occurring this weekend. We'll post up details once they're available.