Every cloud has it's silver lining and when SOE recently announced that DC Universe was going to be pushed back from it's original release date in November to sometime next year they also snuck in another announcement concerning the games release on PS3.
…due to overwhelming demand from the community, SOE is pleased to announce that a Collector's Edition for the PlayStation 3 will also be released (North America only), which includes the same items contained in the PC version announced earlier this year – the DCUO Batman statue, the limited edition Art of DC Universe Online art book, the DCUO Legends Issue #0 comic book with a Jim Lee variant cover, the DCUO Prestige comic presentation of the DCUO back-story and the limited edition Jim Lee-drawn poster Version of the Legends Issue #0 comic book variant cover.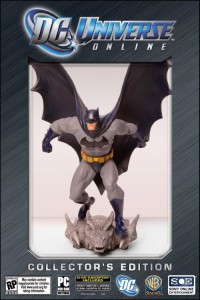 Previously the Collector's Edition release of DCUO was PC only, but now those PS3 gamers can get it as well, which is a good thing because it looks like a nice release.
A price point hasn't been set but given that the PC CE is just shy of $100 I'd be willing to bet the PS3 CE will be $110.
Games Discussed in this Article