Dragon Ball Z Burst Limit (First Edition)
Platform:

Playstation 3
Edition:

(First Edition)
Format:

1
---
Published by
Atari
Released in
United States
on
Jun 10, 2008
at a price of
$59.99
The First edition of Dragon Ball Z Burst Limit comes in a Cardbaord box and includes the following content:
Dragon Ball Z Dead Zone Movie bluray in a separate bluray case.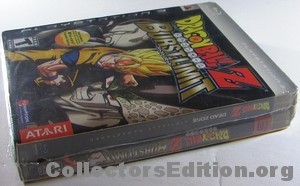 Availability:
Preorder exclusive to gamestop.
Pre-Order Bonus:
T-shirt
Other games with Collector's Edition releases from the
Dragon Ball franchise.