Kokoro Connect: Yochi Random (Limited Edition)
Platform:

PSP
Edition:

(Limited Edition)
Format:

2
---
Published by
Bandai Namco Games
Released in
Japan
on
Nov 22, 2012
Japanese name: ココロコネクト ヨチランダム (限定版)
The Limited Edition of Kokoro Connect: Yochi Random comes in a Original special storage BOX and includes the following content:
特別編集本「ココロコネクト ビジュアルメモリー」 – "Kokoro Connect visual memory book" Special Edition
オリジナルドラマCD – Original Drama CD
ゲームミュージックサウンドトラックCD – Game Music Soundtrack CD
Special Book Cover (2 pcs) – Each of the two book covers of comic size size B6 and size paperback species special book cover 2, teacher! "And" teacher "CUTEG"'re responsible Komikaraizu of mind connect a special precious draw down draw down (4) Use the illustration.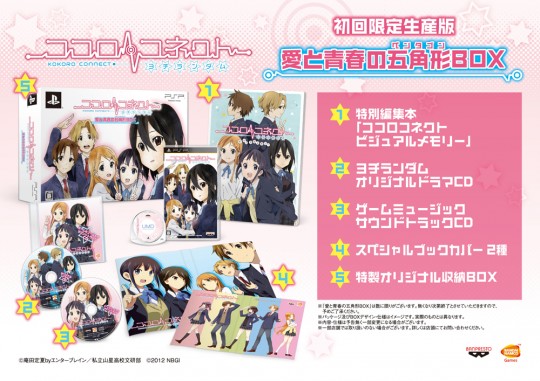 Pre-Order Bonus:
DLC Product code 10 species of original custom theme – "Yochirandamu species" 10 Original custom themes for the PSP
Product code that you can download the "hen daily staff Nichibunken" special episode was recorded illustrations were drawn for the award.
Exclusive newspaper Nichibunken game was published and comments of constant summer teacher interviews and voice actor 田 庵 Nichibunken newspaper, compelling content.
Limited PR card that can be used in PR card Precious Memories "Kokoro Connect" limited trading card game "Precious Memories"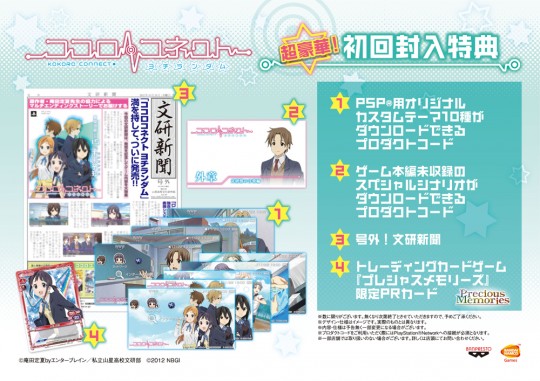 Other games with Collector's Edition releases from the
franchise.