Oddworld: New N' Tasty Limited Edition
Platform:

Playstation Vita
Edition:

Limited Edition
Format:

Americas
---
Published by
Limited Run Games
Released in
United States
on
Apr 25, 2016
at a price of
$29.99
Oddworld: New 'n' Tasty: Limited Edition for the PlayStation Vita. A HD remake of the original 1990's hit PlayStation game Oddworld: Abe's Oddysee.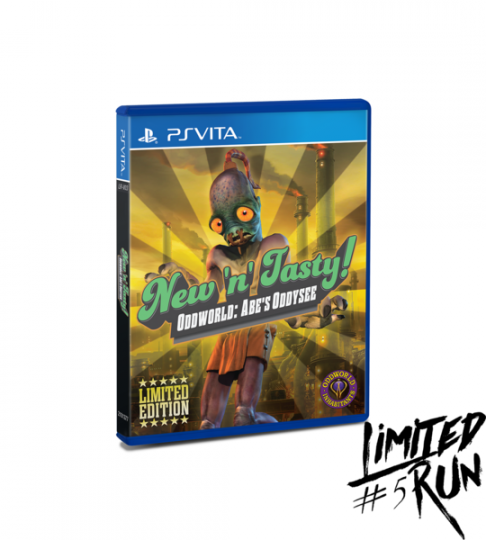 History:
Third game title published by Limited Run Games, a division of game developer Mighty Rabbit Studios. Now the fourth physical Region 1 Vita game release to date to forgo having an ESRB rating. Note this game is #5 in the Limited Run Games release series, game "#4″ of the Limited Run Games release series is the PlayStation 4 version of this very same title, released on the same date. This is the very first game published under the Limited Run Games label not that was not developed by parent company Mighty Rabbit Studios.
Production:
Limited to a mere 2,500 copies wolrdwide making it one of the lowest physical production run game titles released for the PlayStation Vita.
Availability:
The limited physical edition was sold exclusively through the Limited Run Games website. This is the second game release from Limited Run Games where a sales policy limiting buyers to just one copy was in place.