Ragnarok Odyssey Mercenary Edition
Platform:

Playstation Vita
Edition:

Mercenary Edition
Format:

Americas
---
Published by
Xseed Games
Released in
United States
on
Oct 30, 2012
at a price of
$49.99
The Mercenary Edition of Ragnarok Odyssey comes in a Cardboard Box and includes the following content:
Soundtrack CD
Mercenary Guide showcasing artwork and winning strategies
A pack of 'Monster Cards' containing 10 random trading cards (Total of 50 cards)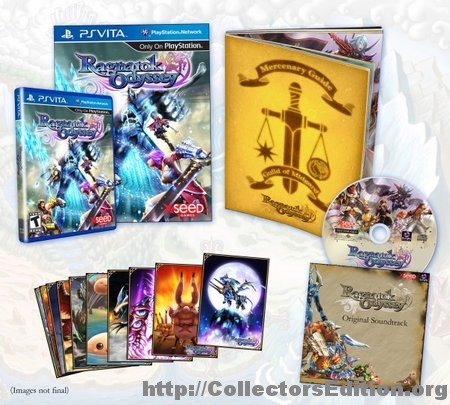 Additional Info:
While drawing inspiration from the popular world of Ragnarok Online, Ragnarok Odyssey was developed by Game Arts, the developer behind the Lunar and Grandia series, with an original story anyone can enjoy
Fling enemies skyward, defy gravity to continue your assault in mid-air, then finish off the combo by smacking them clear across the stage
With over 20,000 combinations based on gender, facial features, accessories and more, plus six selectable job classes consisting of Sword Warrior, Hunter, Hammersmith, Assassin, Mage and Cleric, no two player-created characters will ever be alike
Up to four players can play together online to take on some of the most fearsome and challenging giants in the game.
All the additions  added to the game from Japan will also be included with the game when you buy it brand new.
Other games with Collector's Edition releases from the
Ragnarok Online franchise.