Saints Row 2 Collector's Edition
Platform:

Xbox 360
Edition:

Collector's Edition
Format:

NTSC
---
Released in
United States
on
Oct 14, 2008
at a price of
$79.99
The Collector's Edition of Saint's Row 2 comes in an embossed metal tin wrapped in a cardboard sleeve.  Inside the tin is the regular edition game, a paperback art book, a double-side fold out with a map of the city on one side and a poster on the other, a gold Saints Row 2 money clip, and a chrome Saints Row 2 bullet shaped memory stick.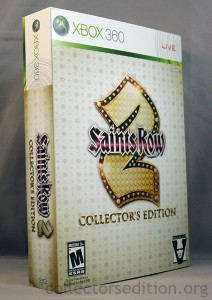 The USB Memory Stick has a capacity of 512MB and comes preloaded with 4 wallpapers each in 9 different sizes ranging from buddy icons and cell phone walpapers up through large widescreen monitor sizes.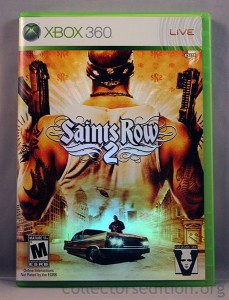 Pre-Order Bonus:
Those who pre-ordered Saints Row 2 through Gamestop locations received an in-game code to unlock a motorcycle and a UFO craft.
News About this Collector's Edition:
Other games with Collector's Edition releases from the
Saints Row franchise.