Star Ocean: Integrity and Faithlessness Collector's Edition
Platform:

Playstation 4
Edition:

Collector's Edition
Format:

Americas
---
Published by
Square Enix
Released in
United States
on
Jun 28, 2016
at a price of
$109.99
The Collector's Edition of Star Ocean: Integrity and Faithlesness comes in a "special collector's edition" box featuring the main cast of characters and includes:
A special collector's edition SteelBook.
An 80-page hardcover art book featuring artwork from the entire Star Ocean series.
A music sampler with 16 tracks chosen from composer Motoi Sakuraba.
Eight art cards featuring character illustrations by akiman.
A Pangalactic Federation ID Card.
In-Game DLC items
Six music themes to customize battle BGM to music from the Valkyrie Profile & Star Ocean series.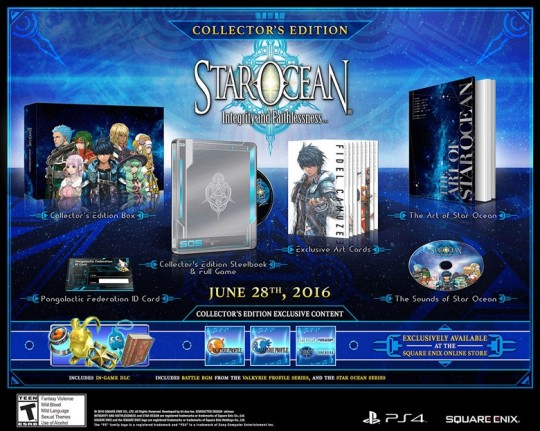 Other games with Collector's Edition releases from the
Star Ocean franchise.