The Division 2 Dark Zone Collector's Edition (Ubisoft Exclusive)
Platform:

Playstation 4
Edition:

Dark Zone Collector's Edition (Ubisoft Exclusive)
Format:

Europe
---
Published by
Ubisoft
Released in
Europe
on
Mar 15, 2019
at a price of
€109.99
The Dark Zone Collector's Edition of The Divison 2 includes the following content:
The Division 2 Steelbook Gold Edition
Three-day early access to the game starting March 12, 2019
A 30cm-high Ubicollectibles figurine of Heather Ward, The Division 2 Specialized Agent.
A Book of Lithographs: A selection of detachable lithographs, including twenty of the greatest pieces of art from the game.
The Selected Game Soundtrack.
A Washington, D.C. map.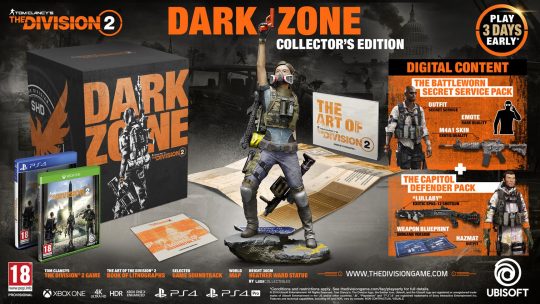 Pre-Order Bonus:
Private Beta
Early access starting on March 12.
Capitol Defender Pack, including "The Lullaby" – Exotic SPAS-12 Shotgun and Hazmat 2.0 Outfit