The Sims 3 Showtime Katy Perry Collector's Edition
Platform:

PC
Edition:

Katy Perry Collector's Edition
Format:

DVD-ROM
---
Published by
EA
Released in
United States
on
Mar 06, 2012
at a price of
$39.99
The Katy Perry Collector's Edition of The Sims 3: Showtime includes the following content:
In-Game Content: The Collector's Edition includes a downloadable venue, plus a Katy Perry themed hairstyle, guitar, poster, 2 fruit costumes, and 3 fruit-themed stage props that include banana, cherry, and watermelon statues.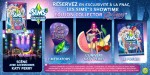 History:
The Katy Perry Collector's Edition included on the game are based on themed objects, hair styles and venue based on her concept for her album Teenage Dream.
Other games with Collector's Edition releases from the
The Sims franchise.