World of Warcraft: Warlords of Draenor Collector's Edition
Platform:

PC
Edition:

Collector's Edition
Format:

DVD-ROM
---
Published by
Blizzard Entertainment
Released in
United States
on
Nov 13, 2014
at a price of
$89.99
Released in
United Kingdom
on
Nov 13, 2014
at a price of
£64.95
Released in
Australia
on
Nov 13, 2014
at a price of
$99.95
The Collector's Edition of World of Warcraft: Warlords of Draenor comes in a premium box and includes the following content:
Warlords of Draenor exclusive behind-the-scenes DVD.
Collector's Edition soundtrack.
The Art of Warlords of Draenor, a 160-page art book.
A Blackhand mouse pad.
In-game contents:

World of Warcraft Dread Raven Mount and Dread Hatchling Pet
StarCraft II Portraits
Diablo III Warsong Pennant
Hearthstone Card Back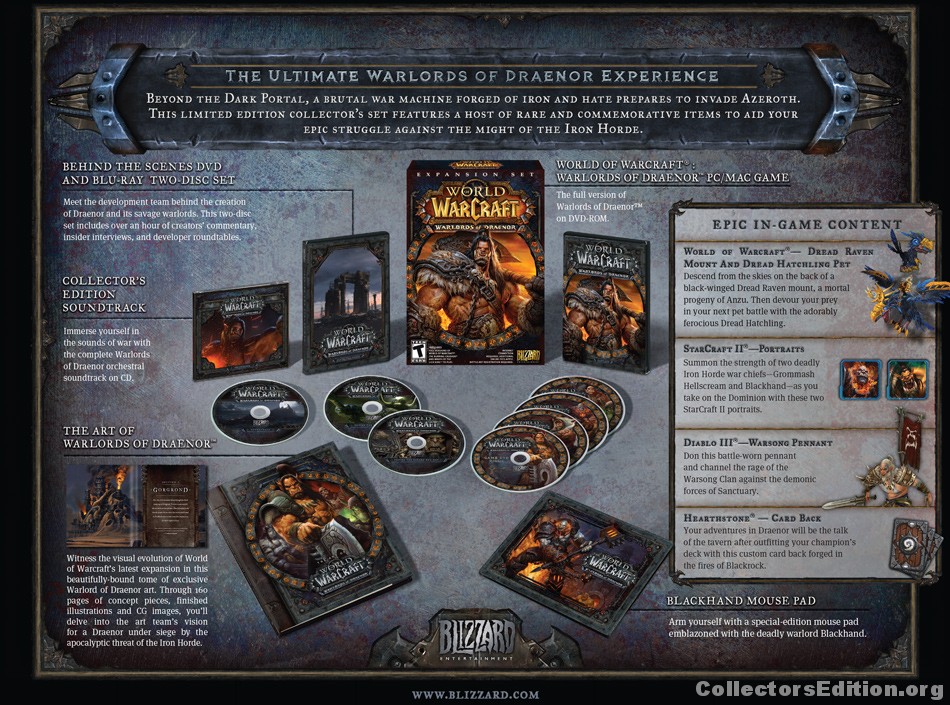 Other games with Collector's Edition releases from the
Warcraft franchise.