Poland is getting a Ultra Limited Collector's Edition for Call of Juarez: The Cartel, It's PC only and Limited to 1000 units.
It includes the following:
– Soundtrack CD
– DVD filled with screenshots, and wallpapers trailerami
– Pendant with .44 caliber cartridge
– Ben McCall Police badge with ULC codes (unlock caliber rifle and 9×19 mm semi-automatic pistols)
– Leash with the game logo
– Gas Lighter Ben McCall
– Two dog tags
– Evidence in the case of Eddie Guerra
– Fake banknotes
– Sunglasses (UV 400)
– List of weapons with statistics
– Poster from the game
– Official logo bandana with Call of Juarez: The Cartel
– Official T-shirt with the logo of the game
– Aluminum suitcase (50cm x 80 cm).
Pre-orders can be made here: l Muve.pl, for a price of 180 PLN (£45 GBP or $65 USD) however they do not export outside of Poland.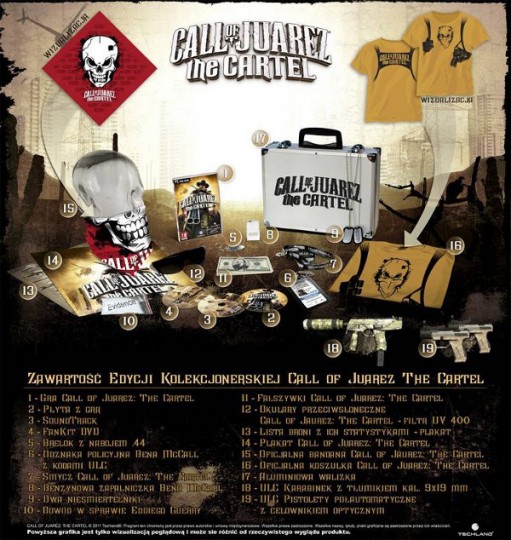 Many thanks to Mikel for the info.