Sony Computer Entertainment has announced a special Anniversary Edition of Gran Turismo 6. It will come in a steelbook case, the design of which is yet to be unveiled.
Included will be one million in-game credits to help you unlock some of the more exotic cars. There is also a new version of the Apex game guide which was first included with the Collector's Edition of Gran Turismo 5. The Anniversary Edition of GT6 comes with 20 cars with special 15th Anniversary custom livery and performance enhancement, custom paint chips, custom race suit, custom race helmet and custom avatars. Those cars are:
Alfa Romeo TZ3 Stradale (2011)
Alpine A110 1600S (196
Aston Martin V12 Vantage (2010)
Audi R8 LMS ultra (Audi Sport Team Phoenix) #3 (2012)
BMW Z4 GT3 (2011)
Chevrolet Corvette Stingray (C7) (2014)
Ford Focus ST (2013)
Ford Mustang Shelby GT500 (2013)
Honda weider HSV-010 (SUPER GT) (2011)
KTM X-BOW R
Lamborghini Aventador LP 700-4 (2011)
Lexus IS F Racing Concept (200
Lotus Europa (type54) (196
Mercedes-Benz SLS AMG GT3 2011
Nissan GT-R NISMO GT3 N24 Schulze Motorsport (2013)
Renault Sport Megane Trophy V6 Race Car (2011)
SRT Viper GTS (2013)
Tesla Motors Model S Signature Performance (2013)
TRD 86 Racing (200
Volkswagen Scirocco GT24 Race Car (2008)
The latest in the Gran Turismo series is set for release this November on PS3, while Gran Turismo 6 for PS4 is said to be under consideration. Pricing is still TBD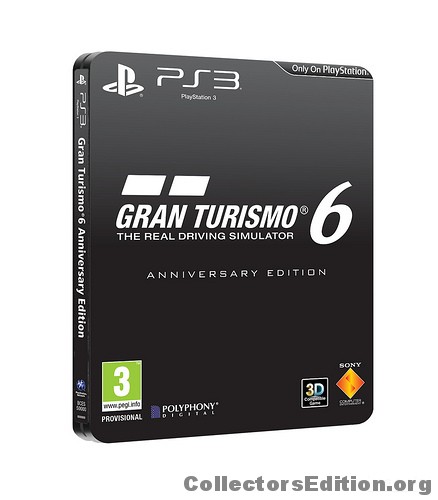 Thanks to comaamen86 for the heads up!