Just yesterday Remedy Games released details of an upcoming Limited Collector's Edition for the Xbox 360 exclusive Alan Wake.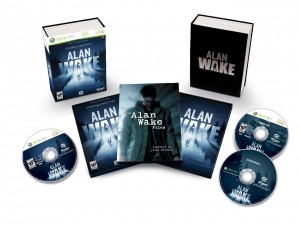 Hardbound in quality linen, the Limited Collector's edition is designed to resemble a hardcover book. The pack will include:

Game Disc in box with unique art
Exclusive In-Game Audio Commentary and Hints by Remedy
"The Alan Wake Files" – a 144pg book that includes a short story written by Alan Wake and compiles the FBI dossiers investigating the events in Bright Falls, WA
Exclusive Audio Disc with Soundtrack and Score
Game Add-on token redeemable on Xbox LIVE for the first Alan Wake add-on content pack
Exclusive Xbox disc with special content: Alan Wake Xbox Live Theme and Alan Wake Avatar for Xbox LIVE

Just a special note if you preorder you will receive the Bright Falls Bonus Pack, which includes exclusive content like Avatar gear, an Xbox LIVE theme, and a "making of" video.
No price officially announced yet but some retail listings have placed it at $80 for the US and £65 for Europe. The game is scheduled for release in North America and Europe on May 18th and May 21st respectively.
Games Discussed in this Article