A few days ago Amazon.com let slip a listing for Collector's Edition of Dead Space 2. Someone on N4G downloaded the product image before Amazon pulled the listing. Thankfully this is one "rumor" that has been confirmed, as EA has recently announced the Collector's Edition, at least they have for Europe.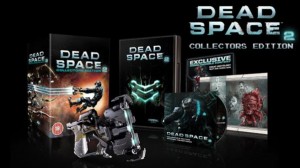 The CE announced for Europe looks identical to the one pulled from the US Amazon store so it's safe to assume they carry the same stuff. But while the CE will be available for PC, PS3, and Xbox 360 the content in the PS3 version is different.
All 3 versions will get the following:
Exclusive DLC code for in-game Unitology Suit and Force Gun
Dead Space 2 Original Soundtrack on CD with an hour of music compiled from the game's score.
Concept art lithograph depicting Necromorph transformation by Visceral Games artist Brett Marting.
However The Xbox 360 and PC versions will also be getting this:
Replica of Isaac's Plasma Cutter, modeled from the new design from Dead Space 2.
To make up for the lack of replica plasma cutter the PS3 version will be receiving
the same HD and move enabled re-release of Dead Space Extraction as the PS3 Limited Edition
a DLC code for an in-game Rivit Gun
Personally I'd rather have the replica plasma cutter but the PS3 people will be getting 2 games for the price of one.