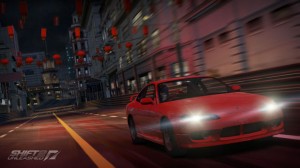 In recent EA "tradition" the upcoming release of SHIFT 2 Unleashed will be available as a "Limited Edition" to those who pre-order. Like other "Limited Edition" releases from Ea this includes a fairly standard package with a few token in-game bonus for day one buyers.  So what do you get?
Early access to 3 cars:

Nissan Silvia spec.R Aero
Alfa Romeo Giulietta QV
Lamborghini Murcielago LP640

40 new career events including:

Single-Type events with all racers in the same car
Old vs. New events with classic and modern versions of the same car
Manufacturer Showdowns with different car makes and models
No official release date has been set but it's scheduled for "Spring 2011". While most of these LE releases are nothing special for collectors, at least the price is the same as the standard edition release for those who sleep on the pre-order.
Games Discussed in this Article