While this CE may be titled "Love is Over" Atlus is certainly showing the love for North American collectors. Available only through preorder on Amazon.com Atlus' upcoming sexy adventure-puzzle game includes quite an interesting array of interesting pack-ins.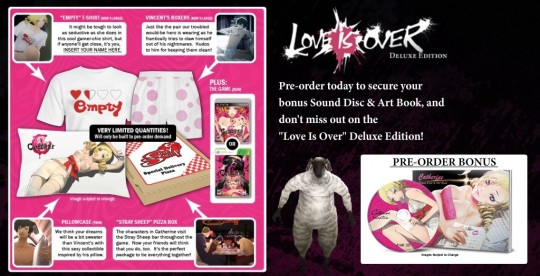 Available for Xbox 360 or PS3 the CE will be packed in a Pizza Box and include a T-Shirt, Boxer Shorts, and a Pillowcase in addition to the base game. Also included as a Pre-Order Bonus is a Soundtrack CD and artbook.
The Love is Over Deluxe Edition is due out on July 26th at a price of about $80.
It should also be noted that the standard edition of this game will be offered with two different covers. the original artwork (which presumably will be included with the CE release) as well as a more tame/less revealing version of the cover for those retailers that are more squeamish. It seems that Amazon.com and some others are offering both versions of the cover for those interested in collecting both versions.
Games Discussed in this Article