Thanks to all the people who let us know about this recent announcement.
THQ has released details about both a Limited Edition and Collector's Editions coming for Darksiders II. The Limited Edition is a first-edition type release (meaning all pre-orders are automatically upgraded) it's essentially the Standard Edition with a DLC code for the Arguls' Tomb pack.  The Limited Edition seems to be available on all platforms world wide.
The collector's Edition includes the limited edition along with a life-sized Death Mask, hard-cover artbook and DLC codes for the official soundtrack and the Shadow of Death Pack.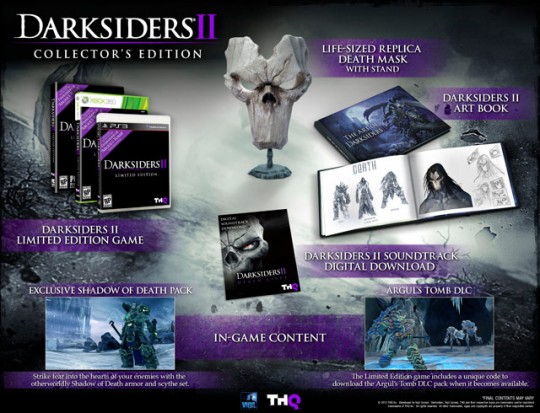 So far the Collector's Edition only seems to be available for Xbox 360 and PS3, and (at the moment) only sold through GameStop in North America at a price of $99.
Darksiders II is slated for release on June 26th in North America and June 29th in Europe.