Batman: Arkham Asylum Collector's Edition
Platform:

Xbox 360
Edition:

Collector's Edition
Format:

NTSC
---
Released in
United States
on
Aug 25, 2009
at a price of
$99.99
The Collector's Edition of Batman: Arkham Asylum comes in a large Plastic Box.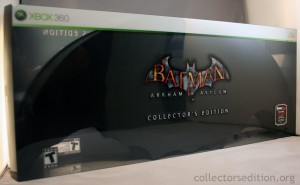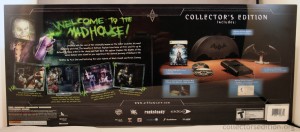 Inside the plastic box is a Large chip-board case with a hinged top and magnetic latch in the same of the bat symbol.  It is flat black and adorned with gloss black text and emblems.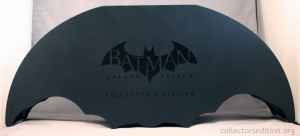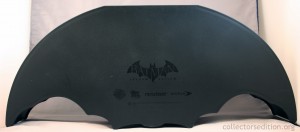 Inside the case is a life-sized plastic replica of the Batarang, a medical journal from Arkham Asylum in a faux-leather cover, two stickers with Xbox Live content codes on the back, the game manual, and a special 2-disc digi-pak case with the game disc as well a behind the scenes DVD.
I found the Batarang to be a bit of a let down, it is no surprise that they decided to make it of plastic, but it is pretty obvious and looks more like a toy than a replica weapon. They also added fake scratches which don't help its case any.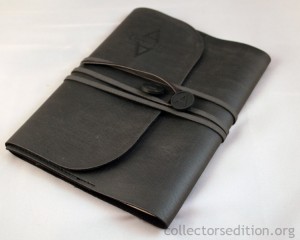 The medical journal with character descriptions was a nice touch. the actual content is in a binding typical of most game manuals but the faux-leather cover makes this a much nicer center piece than the Batarang, if nothing else its more believable.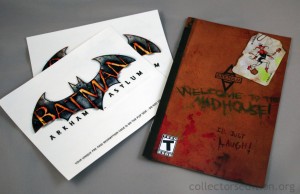 The manual sits outside of the digi-pak game case, most likely because the design of the game case doesn't allow room for much outside of the two discs. Interesting that they made the content cards the backing for some stickers of the game's emblem. Not that collectors are the kind to actually USE stickers that are included with a CE but it's nice to see some fresh thinking with the CE packaging.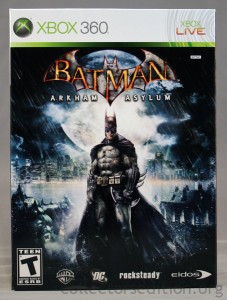 The actual game case is nice, it's a d-disc book style digi-pak with a box cover. A SteelBook would have been nicer, not to mention it would have given us at least SOMETHING metal in this mostly metal looking CE, but I appreciate a nice digi-pak over a standard keep case. If nothing else it helps set it apart from the regular edition games.
The inside of the digi-pak case is done up to look like an old reel-to-reel audio recorder, such a recorder would have been used by a mental institution to record the therapy sessions of the patients. I'm not sure how accurate this is for the period of the game but it at least looks quite nice.
News About this Collector's Edition:
Other games with Collector's Edition releases from the
Batman franchise.