Dragon Quest Heroes: The World Tree's Woe and The Blight Below Slime Collector's Edition
Platform:

Playstation 4
Edition:

Slime Collector's Edition
Format:

Americas
---
Published by
Square Enix
Released in
United States
on
Oct 13, 2015
at a price of
$99.99
The DRAGON QUEST HEROES: The World Tree's Woe and the Blight Below SLIME COLLECTOR'S EDITION (must be one of the longest names for a CE ever) features a glut of goopy goodies for the Slime enthusiast! The collection, enclosed in a Premium Treasure Box Package, includes a Slime plush, Slime lanyard, Slime keychain, and nine exclusive in-game Slime weapons for the legendary DRAGON QUEST heroes, in addition to two playable bonus maps.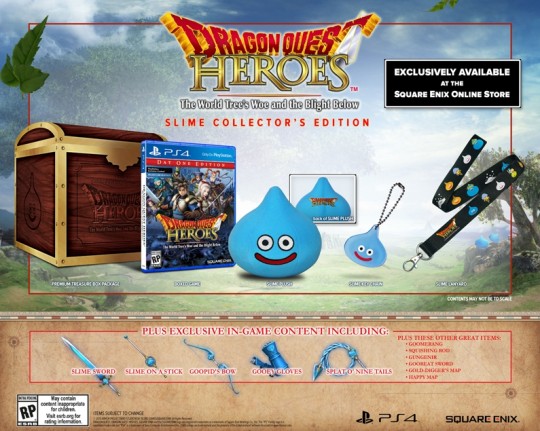 Available to pre-order at the square-enix store for $99, game releases on October 13th 2015.
Other games with Collector's Edition releases from the
Dragon Quest franchise.