Fallout 4 Pip-Boy Edition
Platform:

PC
Edition:

Pip-Boy Edition
Format:

DVD-ROM
---
Published by
Bethesda Softworks
Released in
United Kingdom
on
Nov 10, 2015
at a price of
£99.99
Released in
Europe
on
Nov 10, 2015
at a price of
€129.99
Released in
United States
on
Nov 10, 2015
at a price of
$119.99
Released in
Canada
on
Nov 10, 2015
at a price of
$119.99
The Fallout 4 Pip-Boy Edition includes the following:
Wearable Pip-Boy
Pip-Boy Pocket Guide
Vault-Tec Perk Poster
Robco Industries Stand
Capsule Case
Collectible Metal Case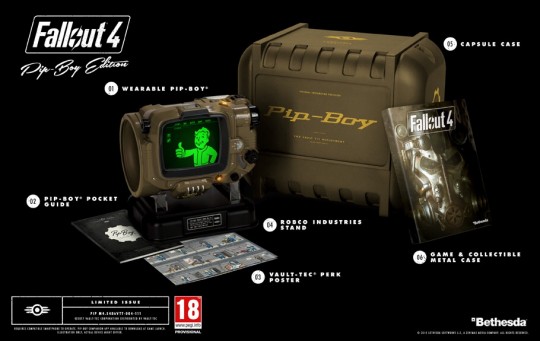 Availability:
The Fallout 4 Pip-Boy Edition is sold Exclusively at GAME in the UK and at various other retailers across Europe and North America.
Pre-Order:
GAME in the UK are offering the following to VIP Club Members.

Other games with Collector's Edition releases from the
Fallout franchise.