Halo 3 Legendary Edition
Platform:

Xbox 360
Edition:

Legendary Edition
Format:

NTSC
---
Released in
United States
on
Sep 25, 2007
at a price of
$129.99
The Legendary Edition of Halo 3 comes in a very larger cardboard box.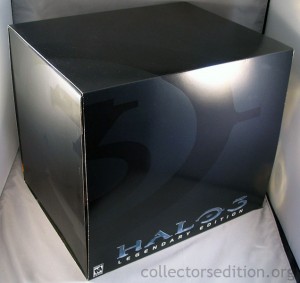 The Box includes a large sleeve with a mural of the master chief printed on the inside. Once the sleeve has been removed it reveals the large "3" cloud mural.
Inside the box there are two black keep cases. Once case includes the Halo 3 game disc and manual, while the other case titled "Essentials" includes a bonus content DVD with making of footage, gamer pics and themes, among other things, as well as a 2nd DVD that plays through the first two halo games like a movie.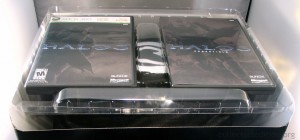 Also in the essentials case is a paperback art book and a small fold out poster.
Below the discs is a large stand with a serial-number for the particular Legendary Edition and a helmet sized cover modeled after the one worn by the Master Chief. Also included is a "3" logoed dust cover to keep it in good condition. The helmet and stand also double as a container for the Game and Essential disc cases.
Other games with Collector's Edition releases from the
Halo franchise.