Today Namco Bandai have announced that there will be two Editions for their upcoming game Dark Souls II. First of all the Dark Souls Collector's Edition which has all the core basics of a great collector's edition and the Black Armour Pre-order Edition.
Both the Dark Souls II Collector's Edition and Black Armour Edition will be out on march 14, 2014 on PlayStation 3 and Xbox 360. Dark Souls II for PCs will launch shortly after in 2014.
Collector's Edition
The Collector's Edition will be available for $119.99 USD/$169.95 AUD and includes the following:
Black Armour Edition

Metal Case
Game Soundtrack CD composed by famed Japanese composer Motoi Sakuraba

12″ (~30 cm) Premium Quality Warrior Knight Figurine weighing in at nearly 16 ounces (~ 450 grams)
Authentic Cloth Map of the Dark Souls II game world
Hardbound Art-Book – Filled with never-before-seen images created by the talented artists at game developer FromSoftware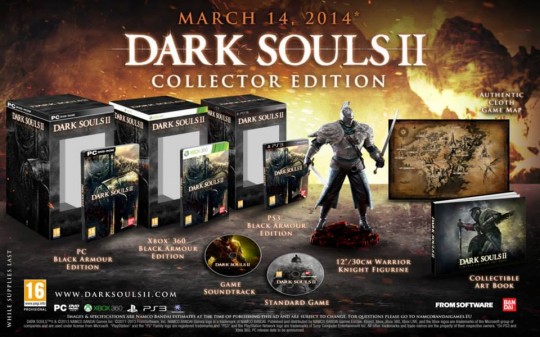 Black Armour Edition
At no addition cost the Black Armour Edition features a metal case that contains both the game disc and the official game soundtrack. As a first edition, as it is called, all versions of the Black Armour Edition from the initial production are the first edition. Later releases will not include the Metal Case or Soundtrack.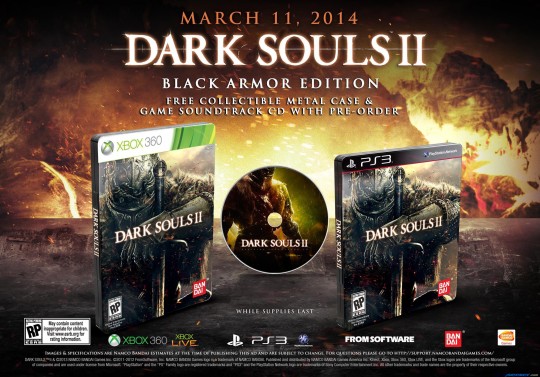 Currently pre-orders are only available for those from the US at Gamestop and Australia at EbGames / JBHifi
Update: UK folks can place their pre-orders at Shopto for £89.86 GBP or at Amazon.co.uk for £62.27 GBP/£62.95
Thanks to ce.o member Letrico for the early heads up!