Over at the official Bethesda store, you can now pre-order the Panzerhund Edition of Wolfenstein: The New Order which is limited to 5,000 pieces.
The Panzerhund Edition comes in a vintage footlocker-style box (measuring approximately 20″ x 10.5″ x 8.5″) with a stamped number plate right above the antiqued clasp and includes the following:
Inside, you'll find a classified folder affixed to the lid containing 11 classified documents (an assortment of maps, case files, and even an x-ray)
The bulk of the footlocker houses an 8″ articulated Panzerhund statue. Made of high quality vinyl material (PVC and ABS) the statue is hand painted, includes a base, and strikes a surprisingly menacing pose for a scaled-down replica
Inset in a velvet-lined tray is an exclusive Steelbook, and a set of 14 full-color weathered-looking postcards of the game's alternate history, bound in a display book.
Lifting this tray reveals compartments housing a set of three high-quality, embroidered patches, and a box containing custom molded replica dog tags, looped and knotted on twine string.
The Edition costs $100 USD and does not include a copy of the game – pre-orders can be placed here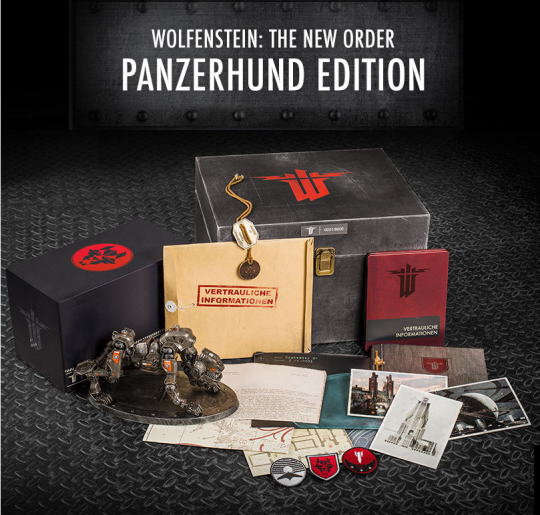 The current estimated ship date is May 20, 2014