At Microsoft's E3 2014 press conference, Ubisoft showed off the first live gameplay demonstration of Assassin's Creed Unity and now I can proudly present you the Collector's Edition of Assassin's Creed: Unity for North America. This is probably just the beginning of a crazy amount of country exclusive special editions, so stay tuned.

The Collector's Edition is available to pre-order now on Gamestop.com for $ 129.99 USD and comes in a Collector's Box with the following content:
16″ Figurine from Arno
Art Book
Music Box
Soundtrack
Single Player missions DLC

The Science Mission
The Chemical Revolution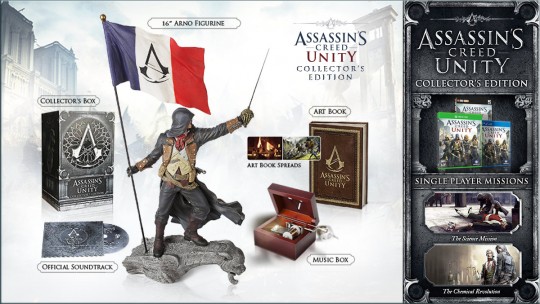 The game launches on October 28th. More info and retailer exclusive pre-order bonus can be found here.
Thanks to ce.o member Mathika for the heads up!