Yesterday, late in the night, Square Enix have announced the Collector's Edition of Final Fantasy Type-0 HD.  The game is a remake of the series spin-off that originally launched on PlayStation Portable in Japan in 2011 which is making its way to PS4 and Xbox One in March 2015.
The $99.99 USD Collector's Edition of Final Fantasy Type-0 HD will come in a nice Collector's Box with the following content, detailed by Square Enix, in addition to the game:
Golden Steelbook Case: Featuring illustrations by world-renowned artist Yoshitaka Amano, this premium case holds both the game and soundtrack CD
Composer's Selections Soundtrack: Includes 15 tracks hand-picked by the game's composer, Takeharu Ishimoto
Final Fantasy Type-0 Manga: A complete 200 page manga comic establishing the world and characters of the game
80 Page Art Book: Dive into the war-torn land of Orience through its illustrations and art renders
Ace's Cards: Five life-size replicas of the iconic cards held by Class Zero's Ace
Final Fantasy XV Episode Duscae Demo: Every copy of the Collector's Edition includes a code for the FINAL FANTASY® XV playable demo. Be among the first to play the game with your order of FINAL FANTASY® TYPE-0 HD
The Collector's Edition is also confirmed for both Europe and Australia, the purchase page will be available soon. People from North America can already pre-order it right know.
Update: The Collector's Edition for people in Europe can be pre-ordered here via the Square Enix Store.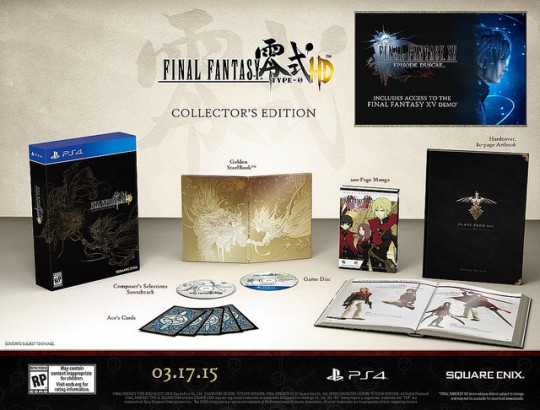 Thanks to ce.o member singer07 for the heads up!