The Borderlands Handsom Collection was announced today; a re-release of Borderlands 2 and Borderlands the Pre-Sequel for PS4 and Xbox One arriving March 24th this year.
The standard edition will include both games and all DLC on a single disc,  at a cost of a full price game ($60 in the US). Supposedly you'll also be able to import your saves from your last-gen console. Also announced is a $400 special edition called the "Claptrap in a Box".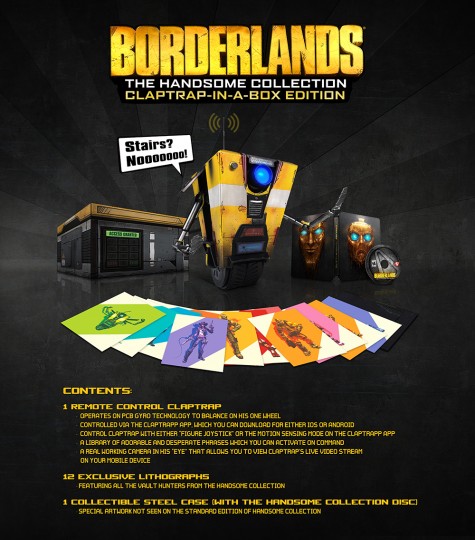 Released world-wide and Limited to 5000 units across all consoles and all regions this edition will cost $400 and include a SteelBook, 12 exclusive lithographs featuring all of the vault hunters from the two games as well as a very cool remote-controlled claptrap.
The included claptrap uses an internal gyroscope to maintain balance, it's controlled by an app available for iPhone or Android, features a camera mounted in it's eye so you can see what it sees, and is able to spout several phrases, also controlled from the app. You can see it in action yourself below:
This edition will be available for pre-order "at select retailers" but there is no word yet on which stores that will be.
UPDATE: Pre-Orders are now open in the US through Amazon.com
Playstation 4 | Xbox One