Details of the upcoming Special Edition of BioShock 2 have been released via the Cult of Rapture site.
Over the past few months, I have seen a lot of speculation around whether or not we would have a special edition for BioShock 2, and if we did, what would be inside.

This is the announcement many of you have been waiting for: There will be a BioShock 2 Special Edition.

The Special Edition will come in 13″x13" premium packaging with special art on both the slipcase and the box cover. Inside, you will find three posters featuring vintage ads from Rapture (rolled), a vinyl 180g LP featuring the orchestral score from the original BioShock, a CD containing the BioShock 2 orchestral score, a 164 page 8″x11″ hardbound artbook chock full of developer commentary and, of course, a copy of BioShock 2.

This edition will be available on February 9th, 2010 for $99.99 for Xbox 360 and PS3 and $89.99 for Games for Windows LIVE and is limited to a single production run. You'll be able to preorder the Special Edition in most countries worldwide, starting now.

Stay tuned for the Official Unboxing for a closer look at the BioShock 2 Special Edition.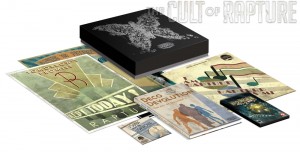 Games Discussed in this Article