The Capcom Blog recently unveiled details about the upcoming Zombrex Edition of Dead Rising 2 which will be exclusive to North America.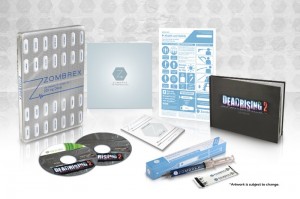 Available for both Xbox 360 and PS3, the Zombrex edition will come in a SteelBook case and includes a plethora of Zombrex branded goodies including a syringe pin, prescription pad and Zombie Outbreak Pamphlet among other things. It of course also includes more traditional CE bonuses such a hard cover Art Book and a movie disc with a full-length feature film as well as a making-of documentary.
Slated for release on September 28th, the Zombrex Edition will run you about $80.
Personally I think this is a much cooler CE than the Outbreak Pack recently announced for Europe, though I see it more as a mea culpa from Capcom to North America or not giving us a CE release for the first Dead Rising while Europe got the SteelBook.
Games Discussed in this Article