Brenden sent in a tip this morning that EA had some now photos up showing what looks to be a more finalized version of the upcoming Nano Edition of Crysis 2.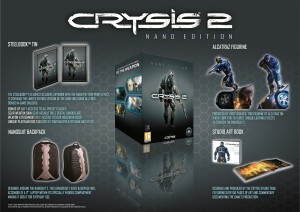 The Crysis 2 Nano Edition is designed for the ultimate Crysis fan and will include the Limited Edition housed in a steel case plus an 11" / 28 cm statue of the game's hero "Prophet" on top of a New York taxi cab, a high-quality art book, all packaged inside a backpack modeled after the Nanosuit itself.
While it looks quite a bit different this is shaping up to be quite a nice CE. I'm particularly happy to see that the NE contains the LE with the adding of a SteelBook as well.