It's time for another "Not So Special Edition" where the cool and exclusive stuff that you paid extra for in your CE becomes not so unique and not so exclusive.
Most people who bought the Dead Space 2 CE were disappointed to find out that the included "replica" Plasma Cutter wasn't actually life size. This made it more of a Scale Model than a "Replica" (I think EA needs to buy a dictionary).
If you're really had your heart set on one, well now's your chance, Entertainment Earth has one up for pre-order.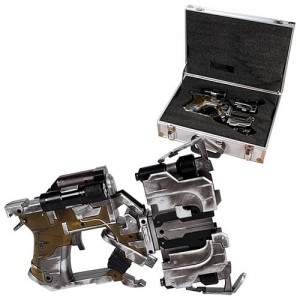 This full size replica Plasma Cutter is approximately 11-inches tall x 3-inches wide x 17-inches long. This Plasma Cutter is the original size of the Plasma Cutter utilized by Isaac Clarke in Dead Space 2. It includes a 3.7 volt rechargeable battery with 30 minutes constant use battery life. The plasma cutter is made of metal with plastic parts to accommodate wiring. Estimated weight at approximately 3-pounds. The Plasma Cutter features a built in trigger when activated that reflects the signature 3-blast spot so that the use may line up its target. The Isaac Clarke's Plasma Cutter features both the horizontal and vertical cutting modes rotating on a 90 degree angle. Ships in a uniquely designed display suitcase. Property of Isaac Clarke is displayed prominently on the outside of the case.
Interestingly the current product image is of the scale model plasma cutter that was included with the CE, you can tell by the shape of the battery door. If the description is to believed this replica will actually be a replica and made of metal to boot. Though at $240 it damn well better be made of medal. Production numbers are unclear but if you pre-order now it will be shipped in March.