CE.o member Anjelaoni posted up info about a rumored "Balls of Steel" Edition of the upcoming Duke Nukem Forever. First rumored on a French Duken Nukem forum it seems that a German retailer is already taking pre-orders for the edition on Xbox 360, PS3, and PC.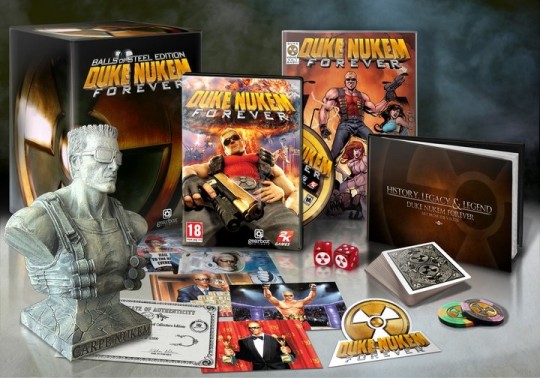 The edition is rumored to be limited to only 2,000 units and include the following:
12.7 cm high bust of the legendary Duke
Certificate of Authenticity
100 pages Hardcover Art Book: The History and Art of Duke Nukem
5 Duke Nukem Postcards
Duke Nukem Forever Logo Sticker
Duke Nukem Forever Limited Collector's Comic
Duke Nukem Forever Foldable papercraft (Duke with pig's head)
Dukem Nukem Forever Poker Chips
Duke Nukem Forever Mini Poker Cards
Duke Nukem Forever dice
Slated for May 3rd no price has been confirmed nor any info as to whether this edition will be available outside of Europe. We will post more details when they become available.
UPDATE: This edition is no longer rumored and has been confirmed by 2K Games.
UPDATE #2: It has been confirmed that this edition will be available through GameStop and Amazon.com in the US at a price of $99.